Music 303 metres down
In Canada's deep forests
Ambition for a "moon landing"
Lofty visions are a traditional component of the New Year address given by Norway's prime ministers, an annual ritual which seldom makes a mark on people's long-term memories. But the speech on 1 January 2007 proved an exception – not least for Statoil.
Labour prime minister Jens Stoltenberg then raised ambitions in Norwegian politics to an altogether new level by citing perhaps the best-known technological achievement in history:
"Norway has taken on a pioneering role by deciding that the gas power plant at Mongstad will be required to have full-scale carbon capture and storage (CCS). We are going to make this a reality. When President Kennedy said that the Americans would land on the moon within 10 years they hadn't been in space yet. They got to the moon within 10 years. They set themselves a goal. And they reached it.
It is our vision that within seven years we will have put in place capture and storage technology. This will be an important breakthrough in the efforts to reduce greenhouse gas emissions in Norway, and once we succeed, I am convinced that the rest of the world will follow our example. This is a major project for our country. It is our moon landing."REMOVE]Fotnote: Prime minster's New Year address, (Prime Minister's Office/ Stoltenberg II government), https://www.regjeringen.no/no/dokumentarkiv/stoltenberg-ii/smk/taler-og-artikler/2007/new-years-address/id445669/.
For his supporters, this was an example of a politician with the courage to articulate big steps forward in the name of technological optimism. But critics saw rich long-term opportunities for scoffing if the project failed to develop as planned.
The challenge
Stoltenberg's proposal represented an attempt to overcome a persistent challenge in Norwegian politics – how to combine big petroleum production with a credible climate policy. As the largest player on the Norwegian continental shelf (NCS), Statoil came to play a key role in efforts to find a solution here after the red-green coalition between the Labour, Socialist Left and Centre parties took office in 2005.
The government entered in the autumn of 2006 into an agreement with Statoil on developing large-scale carbon capture and storage (CCS) at the Mongstad terminal and refinery complex north of Bergen. This accord also covered construction of a Mongstad Technology Centre (TCM) to develop the knowledge required for such a venture. Stoltenberg's New Year address made the project familiar to ordinary Norwegians.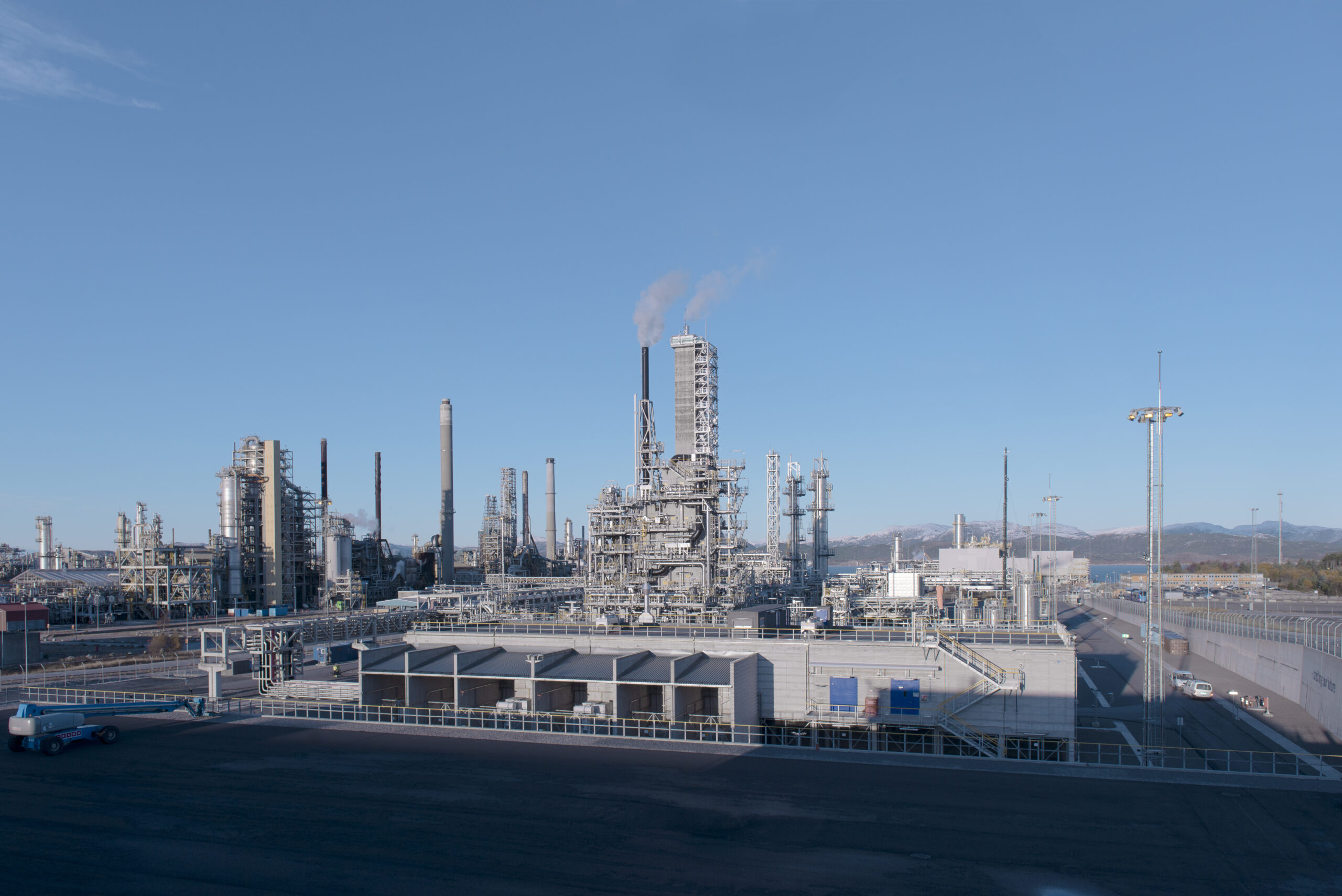 CCS involves preventing CO2 produced by burning gas or coal, for example, from escaping to the atmosphere and contributing to greenhouse gas (GHG) emissions. Instead, it is transported to and stored below ground in stable geological formations. In other words, it represents a form of carbon recycling – back to where it came from.[REMOVE]Fotnote: Benjaminsen, Cristina, 10 October 2019, Dette må du vite om fangst og lagring av CO2, https://www.sintef.no/siste-nytt/2019/dette-ma-du-vite-om-ccs-karbonfangst-og-lagring/, accessed 24 August 2022.
This process had previously turned out to be expensive and complicated, making it difficult to attract market finance. That remained the case with the "moon landing" scheme, and the government therefore accepted by far the heaviest financial commitment for the project by taking an 80 per cent holding in both the full-scale CCS plant and the TCM. [REMOVE]Fotnote: Boon, Marten, 2022. En nasjonal kjempe. Statoil og Equinor etter 2001. Universitetsforlaget: 350.
State and company
Further developments with the agreement exposed interesting aspects of the old and well-known – but nevertheless complex – dynamic between the state as owner and Statoil. This relationship has affected the company throughout its existence.
On the one hand, the agreement gave Statoil a good opportunity to promote a more environment-friendly image. When implementing it, however, the challenge was that the company had to stick within political guidelines at the same time as the project advanced.
Taking the TCM as an example, purely commercial logic dictated that such a facility could equally well have been located elsewhere around the world where the need for CCS was greater than in Norway. Viewed from such a perspective, its profitability could have been better. But the big picture that that such projects were not solely commercial. They depended to a great extent on state support, and few countries could probably compete with Norway in that respect.[REMOVE]Fotnote: Ibid: 350-351.
Differing fates
The two components of the project had differing fates.
With a price tag of about NOK 5 billion, the TCM became operational in 2012.[REMOVE]Fotnote: Riksrevisjonens undersøkelse av statens arbeid med CO2-håndtering. Dokument 3:14 (2012–2013): 7 and 9. https://www.stortinget.no/globalassets/pdf/dokumentserien/2012-2013/dokumentbase_3_14_2012_2013.pdf. Accessed 24 August 2022.
But the plans for a full-scale carbon capture plant were dropped in 2013. Political optimism about the technology seemed unable to save a project when the practical realities showed that it was, as the Auditor General's office put it, "very complicated to plan and build a large-scale capture plant close to an operational refinery and combined heat and power [CHP] station."[REMOVE]Fotnote: Ibid: 8.
Planning and construction were one thing. Operation was a further challenge, for complex reasons. One of the big problems was the price. At the time, prices were high for gas and low for electricity. That meant the gas-fired power/CHP station was operating far below capacity, so that a carbon capture plant would have relatively little to do. In addition, the technology for capturing CO2 was not sufficiently developed to ensure that operation would be efficient enough to justify the cost. Viewed overall, these presented strong arguments against continuing the full-scale project.[REMOVE]Fotnote: Boon, Marten, op.cit: 351.
This was in line with the conclusions drawn by the Auditor General, who found that "the high costs" associated with CCS at Mongstad represented:
"a risk that the return on the commitment will not be commensurate with the financial commitment. High costs could also increase the risk that carbon capture for coal- and gas-fired power stations would not be accepted as a climate measure. On the other hand, it is positive that the commitment to carbon capture has helped to build expertise among government and industry players which could reduce capture costs in the longer term."[REMOVE]Fotnote: Riksrevisjonens..., op.cit: 8.
Such conditional optimism offered some future hope for this type of project.
Nor was the history of CCS in Norway thereby over. The political support for technology development continued, and full-scale CCS was again at the centre of attention a few years later – albeit in a different version of the original "moon landing" project.
arrow_back
Music 303 metres down
In Canada's deep forests
arrow_forward