Anders Opedal – between industry tradition and energy transition
World-record well on Troll
Multiphase approach to Troll
Producing a giant like Troll, which contains large quantities of both oil and gas, is no simple matter. Since planning and coordination between the various players are required to achieve optimal exploitation, the field's commercial life has been divided into stages. Troll phase 3 came on stream in 2021, and wind power in the area is now also under consideration.
This field is far and away the largest on the Norwegian continental shelf (NCS). To arrive at the best possible approach to utilising its huge oil and gas reserves, lengthy battles were fought over licensee rights, the production sequence and who was to be responsible for what. Troll originally had two operators – Norsk Hydro handling the oil and Statoil in charge of gas production. Today, Equinor operates the whole field.
Two structures make up Troll ­– East and West. About two-thirds of the gas is found in the first of these. Pressure communication has been identified between them, which means production from one affects the other. A thin oil column also found beneath the Troll East gas is not being produced. Troll West divides into oil and gas provinces, with the first originally comprising an oil column about 22-26 metres high beneath a small gas cap at a depth of 1 360 metres. The gas province had an oil column 12-14 metres high under a gas column up to 200 metres tall.[REMOVE]Fotnote: Norwegian Petroleum Directorate, fact pages on Troll, https://factpages.npd.no/en/field/pageview/all/46437.
Phases 1 and 2
When a field contains both oil and gas, the former is usually produced first in order to prevent a pressure drop in the reservoir by removing gas. That would complicate further recovery of the underlying oil. Gas production begins later – a process known as blowdown.
The outcome of discussions after Troll had been discovered was that Hydro became responsible for producing oil from a thin zone under the gas in the western part of Troll. Norske Shell secured operator responsibility for developing the gas reserves, with Statoil taking over the operatorship for the production phase. Oil began flowing, as Troll phase 2, in 1995, while gas output from Troll phase 1 started in 1996. Up to 31 December 2022, 280 million standard cubic metres (scm) of oil – or about 1.8 billion barrels – had been recovered by the Troll B and C platforms, while Troll A had produced 693 billion scm of gas. Plans call for both oil and gas production to continue for many years.
Phase 3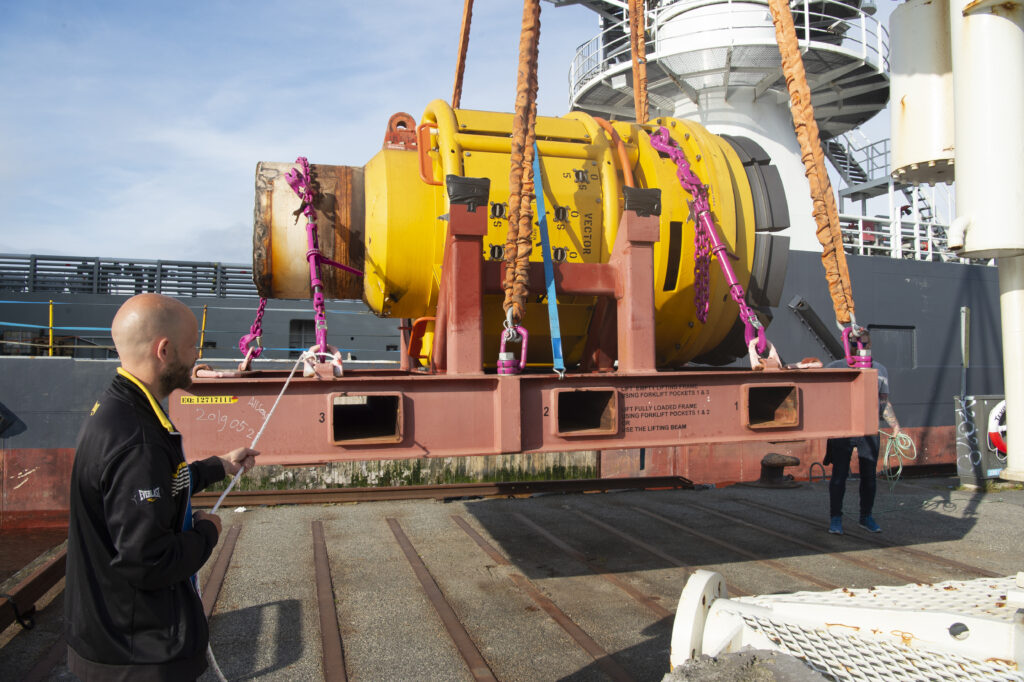 Statoil/Equinor was also to be responsible for Troll phase 3, which involved recovering the gas overlying the oil in the western part of the field. Starting production on 27 August 2021, the first stage in this development comprises eight new gas wells on Troll West which are tied back to Troll A. These wellstreams are carried by a new 36-inch flowline – an unusually large dimension for an infield connection. They are compressed on the platform and exported via existing infrastructure. Compressor capacity on Troll A was expanded in 2004-05 and again in 2015 to compensate for declining gas pressure as the reservoir empties.
More than NOK 8 billion has been invested by the licensees in phase 3, which is due to produce for at least 30 years.
The project will recover 347 scm of gas, which would have made it one of the 10 largest fields on the NCS if viewed in isolation. This ranks as one of the most profitable developments in Equinor's history, with a breakeven price of less than USD 10 per barrel of oil and CO2 emissions below 0.1 kilogram per barrels of oil equivalent compared with a global average of 18 kilograms.[REMOVE]Fotnote: https://geo365.no/olje-og-gass/norsk-oljeproduksjon-er-karbonnoytral/#:~:text=Norge%20slipper%20ut%20ca.,rundt%2010%20kg%20CO2, accessed 28 June 2022. The low breakeven price reflects the large gas volumes involved and the existing infrastructure – Troll A, the pipeline to land and the Kollsnes processing plant. Among the reasons for the low emissions are that Troll A is driven with power from shore.
Rare disappointment
Troll Brent B was the designation given to supplementary resources found below the main field reservoir in 2005. The authorities waived the requirement to submit a plan for development and operation (PDO), and the intention was to recover the resources with a single production well from a template tied back to Troll C. Costs were put at NOK 395 million, with an estimated 3.6 million barrels of oil to be produced. But it was not to be.
While drilling the producer, it was discovered that the reserves were substantially lower than originally estimated.[REMOVE]Fotnote: The well was intended to be a multilateral drilled from the O template. The resources were not brought on stream. This is one of the relatively few unsuccessful stories relating to Troll.
More left in Troll plus wind power
According to Equinor, an integrated development plan has been developed for Troll gas. This means it is likely that new wells will be drilled and additional infrastructure installed on the field.[REMOVE]Fotnote: https://www.equinor.com/no/news/archive/20210830-troll-phase-3, accessed 28 June 2022.
The PL 054 and 085 production licences covering Troll run until 2030, but Equinor's plans call for the field to stay on stream far beyond that – as Troll A's commercial life of 70 years indicates. A PDO has also been submitted to supply Troll C wholly and Troll B partly with power from shore in 2026, which should reduce total Norwegian CO2 emissions by around one per cent.[REMOVE]Fotnote: https://www.npd.no/en/facts/news/general-news/2021/further-emission-cuts-from-the-troll-field/, accessed 28 June 2022.
Equinor and its partners in Troll and Oseberg – Petoro, TotalEnergies, Shell and ConocoPhillips – have also initiated a study of opportunities for a floating wind farm in the vicinity. This could supply most of the electricity needed by the two fields, and thereby reduce power requirements from shore.[REMOVE]Fotnote: https://www.equinor.com/news/20220617-considering-1gw-offshore-wind-farm-off-western-norway, accessed 30 June 2022.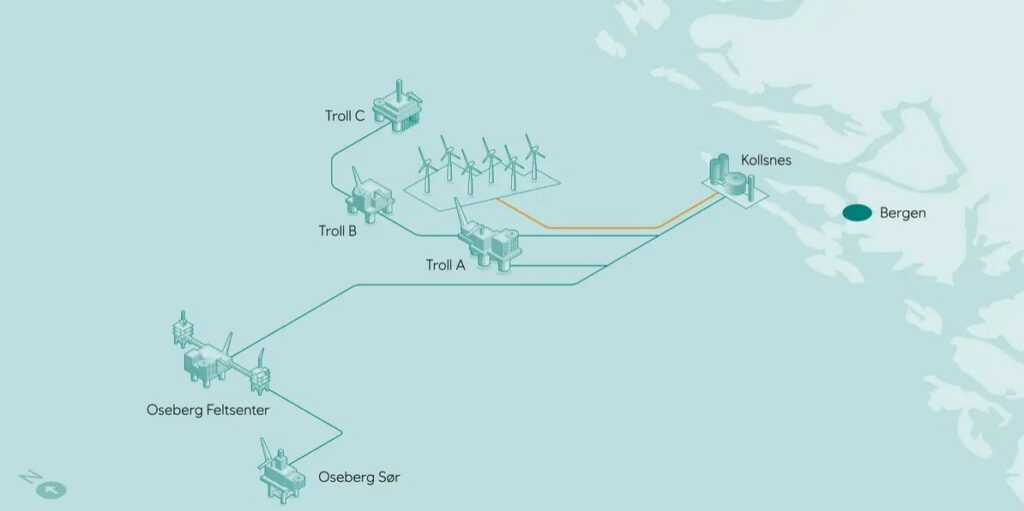 arrow_back
Anders Opedal – between industry tradition and energy transition
World-record well on Troll
arrow_forward