Offshore wind power in South Korea
Climate roadmap
Developing Johan Sverdrup
A 2019 estimate placed Johan Sverdrup as the third largest oil field on the Norwegian continental shelf (NCS). Characterised as "Norway's largest industrial project" its development has been organised in two stages.
After the Aldous and Avaldsnes discoveries were found to be connected, forming a single field, this was officially named Johan Sverdrup in January 2012.[REMOVE]Fotnote: Ministry of Petroleum and Energy, press release, 17 January 2012, "New name for big find", http://www.regjeringen.no/nb/dep/oed/pressesenter/pressemeldinger/2012/storfunn-far-nytt-navn.html?id=669906. Expected resources of 2.7 billion barrels of oil equivalent (boe) made it a sizable find.
The choice of name was intended to underline the importance of the field. Johan Sverdrup (1816-92) was the founder of Norway's Liberal Party, president of the Storting (parliament) and prime minister from 1884-89, and a prime mover for the introduction of parliamentary government in Norway.
When the field's "baptism" took place, work was already under way on plans to bring it on stream. A development concept presented in February 2014 involved four platforms with tie-ins to seabed installations. The size of the field meant that a two-stage process was envisaged. Power from shore to several fields in the Utsira High area was to be installed in phase two. A first cable was laid to stage one, and another in the second stage together with a fifth platform.
First construction stage
Johan Sverdrup was developed with four platforms in 2015-19. This field centre comprises facilities for quarters (LQ), processing (P1), drilling (DP) and risers (RP). All are supported on steel jackets, a traditional solution which reflected the relatively moderate water depth of around 110 metres. Had it been deeper than 200 metres, floating installations combined with seabed wells would have been more relevant.[REMOVE]Fotnote: https://www.duo.uio.no/bitstream/handle/10852/63070/Larsen_Master.pdf.
On the relatively "shallow" Utsira High, divers could do more of the installation than in deeper waters where diverless subsea technology would have been required. That made the work cheaper and more flexible.
The Pioneer Spirit heavy lift vessel was used to lift the platform topsides into place. This could raise up to 48 000 tonnes at a time.[REMOVE]Fotnote: https://www.equinor.com/news/archive/04jun2018-johan-sverdrup-drilling-platform-installed. Weighing almost 26 000 tonnes, the lift for the process platform set a new offshore record.[REMOVE]Fotnote: https://www.equinor.com/no/news/archive/2019-03-22-record-breaking-lift-johan-sverdrup.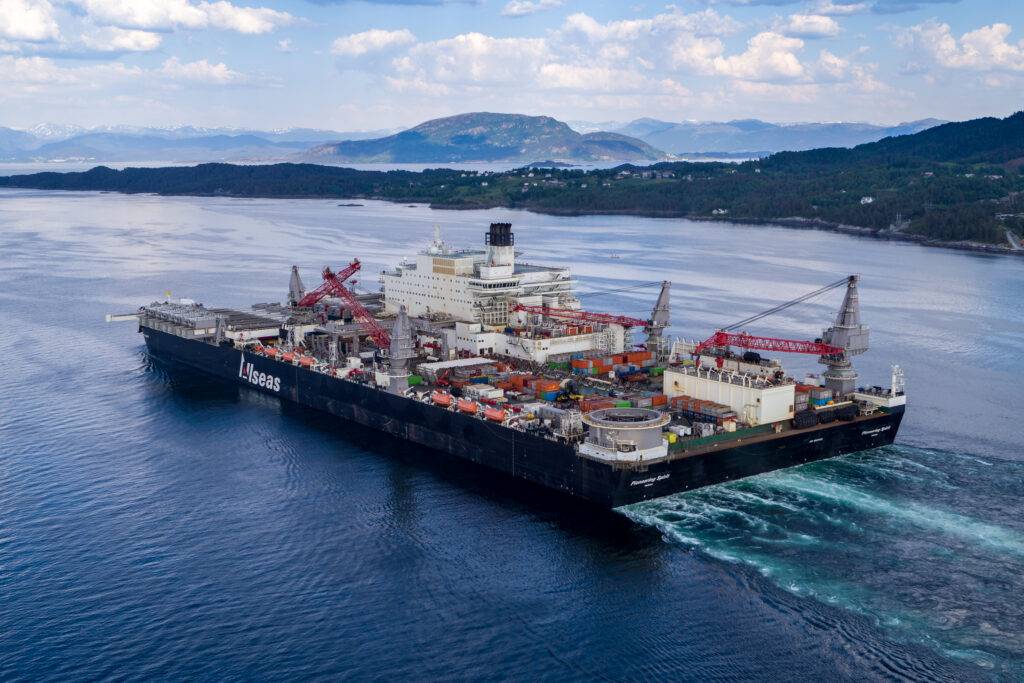 Three subsea installations for injecting water were also included in the development.[REMOVE]Fotnote: https://www.equinor.com/no/news/archive/2019-06-13-pipelines-marine-operations-johan-sverdrup. Such injection is required to help maintain reservoir pressure, thereby sustaining production at a high level and improving resource recovery.
Production began on 5 October 2019. The first phase was designed to provide a daily production capacity of 440 000 barrels of oil, but that was increased towards 535 000 barrels in 2021.
Second construction stage
Planning and starting up the construction of the stage-two platform began in 2018 on the basis of earlier letters of intent. The plans were finally approved by the Storting on 29 April 2019.[REMOVE]Fotnote: https://www.stortinget.no/no/Saker-og-publikasjoner/Saker/Sak/?p=74452.
Building this second process platform (P2) for the field began in December 2018, with installation in the spring of 2022. A new module was also placed on the riser platform, while five new seabed templates were positioned.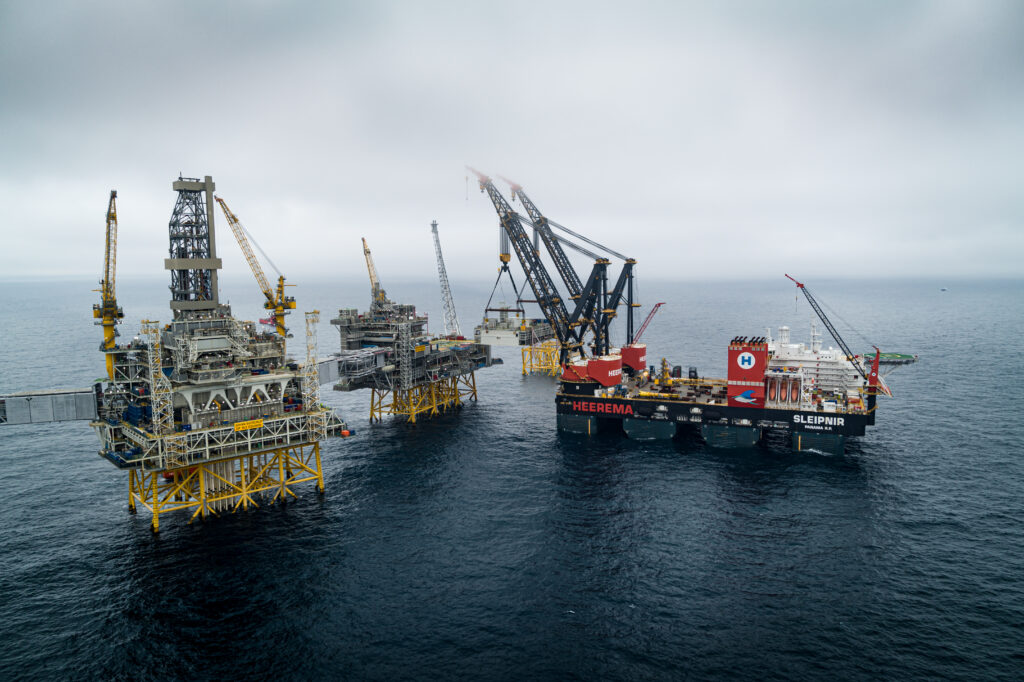 Electrification of the Utsira High area formed part of the second stage, and P2 thereby featured a dedicated module to distribute power from shore to other nearby fields – Gina Krog, Ivar Aasen and Edvard Grieg. The cable to Gina Krog also provided partial electrification of the Sleipner field centre, which in turn supplied power to the Gudrun, Utgard, Gungne, Sigyn and Solveig fields.
Installing a separate unmanned wellhead platform was considered for areas distant from the field centre, but the choice finally fell on subsea installations tied back to P2.[REMOVE]Fotnote: https://energi24.no/nyheter/velger-subsea-foran-bronnhodeplattform-avaldsnes. Plans call for the second stage to come on stream in late 2022, increasing daily production capacity by 220 000 barrels of oil.
arrow_back
Offshore wind power in South Korea
Climate roadmap
arrow_forward