Multiphase approach to Troll
Wind energy supplements gas-fired power on Tampen
World-record well on Troll
Norway's Troll field holds several records. Not only is Troll A the world's tallest moveable structure, but well S-23 also set a new world record when it came on stream in 2021. At 10 042 metres, it was the longest oil well ever drilled from a floater.
"This is engineering art," declared an enthusiastic Lill Harriet Brusdal, Equinor's vice president for the Troll area, about the well drilled in close collaboration with Baker Hughes and Transocean.[REMOVE]Fotnote: Equinor is operator for Troll, with Petoro, Shell, TotalEnergies and ConocoPhillips as its partners. The previous length record set from a floating rig was 9 082 metres on the Visund field.
Oil in thin zones
Discovered in 1979, Troll was brought on stream by two projects – one for oil in 1995 and the other for gas in 1996. The field lies in the North Sea, 65 kilometres west of Kollsnes in Vestland county where its gas and condensate are brought ashore for processing.
It accounts for 40 per cent of Norway's gas reserves and is the  largest source of this resource on the Norwegian continental shelf (NCS). But Troll also contains a lot of oil, which is far less easy to recover. That is because it lies in a relatively thin layer, with an aquifer below and a gas cap above. Long horizontal production wells have been drilled to get at this zone.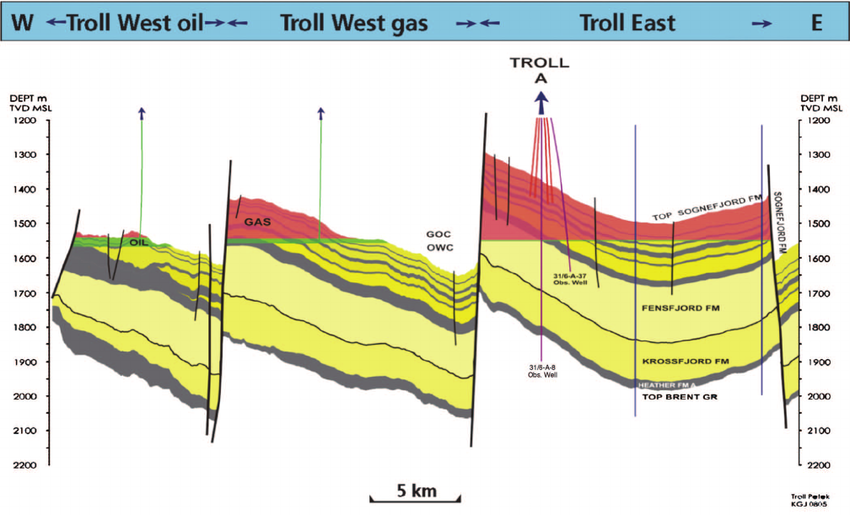 While the oil column in parts of the field is 20 metres high, it reduces to two-four metres in other areas. Recovering oil from these thin layers has called for technological advances.
Drilling such a long well is very sophisticated and demands precision. "You're right at the limits of what the equipment can cope with and deliver," says Equinor's Anders Solberg Kjellevoll, concept engineer for the record-breaking well. Planning for it began in May 2020. All the subcontractors concerned were involved from an early stage in the process, with some 500 people taking part. The actual drilling took 132 days.
Its path first runs downwards for 2 000 metres before levelling out to continue horizontally for a further 8 000 metres. The total costs was NOK 785 million.
Well spaghetti
Troll has come to resemble a Swiss cheese riddled with holes. A total of 600-700 wells with a combined length of two million metres have been drilled there. In 2022, 80 producers were on stream. The record well then provided about 6 500 barrels per day or 10 per cent of the oil being produced from field. Before it came on stream, crude output from Troll was in decline. But new technology made it possible to access even more of the resources.
Experience from Troll can be used on other fields to improve recovery. The technology developed is also applicable in entirely new areas, such as carbon storage. "The NCS could become a repository for CO2 from big players in Europe," observes Brusdal. "That offers a huge potential."[REMOVE]Fotnote: Stavanger Aftenblad, 29 September 2021, "Equinor med rekord: Boret verdens lengste oljebrønn på Troll-feltet".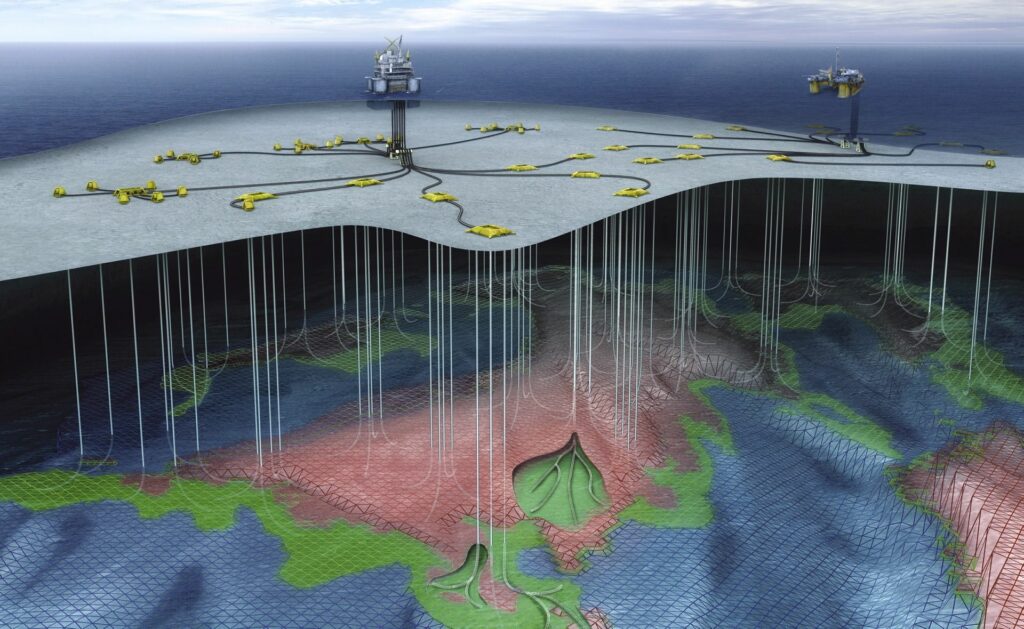 arrow_back
Multiphase approach to Troll
Wind energy supplements gas-fired power on Tampen
arrow_forward