A separate subsidiary was established by Statoil in Singapore during 1991 to pursue oil trading in east Asia. The company wanted a presence in a region where many countries were experiencing strong economic growth and rapidly increasing demand for oil. Statoil Asia Pacific Pte Ltd became operational on 1 January 1992 and has since expanded.
Singapore was and is an important hub for east-west trade. This modern city state houses more people than Norway in an area of about 800 square kilometres. A cultural melting pot, the former British colony with a predominantly Asian population handles contacts between two continents both linguistically and culturally.
15.00 Singapore/09.00/Stavanger/03.00 New York
In the 1990s, Singapore ranked as the world's third largest oil refining centre and had a growing petrochemical industry. Tankers and dry cargo ships lay in the roads under an equatorial sun and daily afternoon downpours while waiting to berth for loading and unloading.
Statoil's first office there opened with five employees and lay in the busy Orchard Road shopping street. During a visit in 1992, CEO Harald Norvik stressed the importance of close contacts with the market. "We have 1.1 million barrels for sale every day. This big volume makes us one of the most central players in the market for North Sea oil."[REMOVE]Fotnote: Statoil Magazine (print edition), no 1, vol 14, 1992.
He noted that Statoil would be able to benefit in the future from the "sunrise effect" when selling oil – the world's most traded commodity. Thanks to the time differences between the company's sales offices, it could market crude oil, gas and refined products 24 hours a day. When the Singapore office closed for the night, it was morning in Stavanger and London. Afternoon in Europe heralded the start of a new day in New York.
Since access to information on oil trades was just as fast during the 1990s in Stavanger and Singapore, no technical barriers prevented all trading taking place in Norway. But the oil industry was also people-based – cultivating contacts was important for winning contracts. That called for a physical presence in Singapore and other leading oil-trade centres.[REMOVE]Fotnote: Ibid.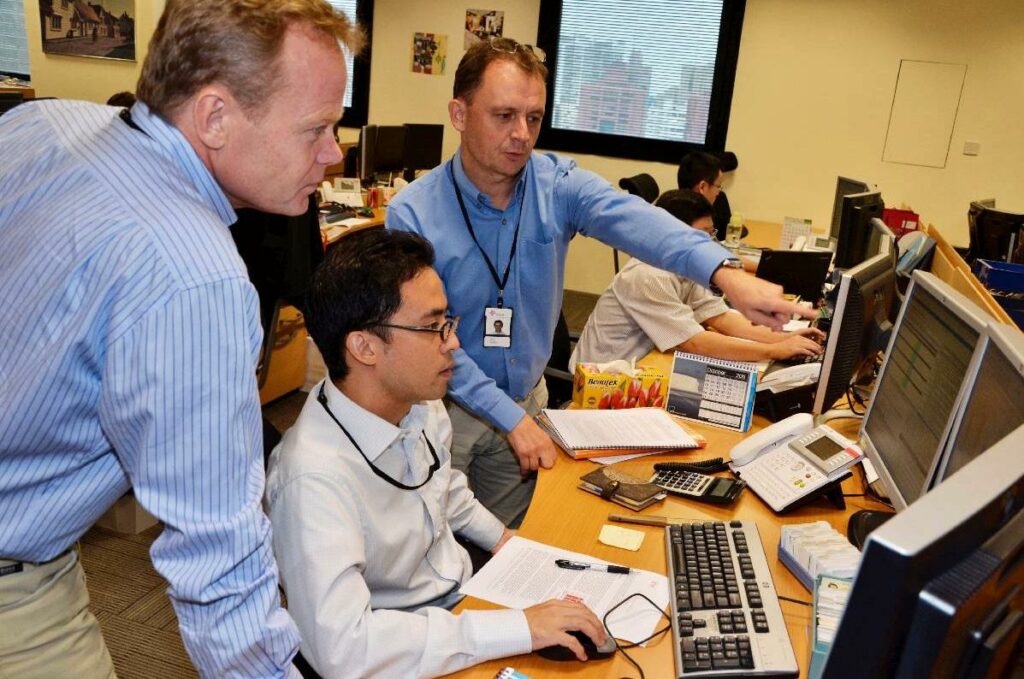 Traders – an important role
In 2012, two decades after it opened, staffing at the Singapore office had risen to 45 people. That included 10 traders, out of the 100 overall in the Statoil organisation who accounted for a dizzying NOK 1.1 billion in daily sales.
Oil was not the only commodity traded in Singapore. Asia had become perhaps the most important Statoil market for liquefied petroleum gases (LPG). Comprising propane and butane, this product was primarily purchased in the Middle East and sold on. A cargo of LPG could change both its route and its owner six-seven times before reaching port – hopefully ending with the buyer willing to pay the highest price.
Each trader usually specialised in a single product. They had to pay close attention, be familiar with market conditions and know what drove prices.
Their first job when arriving at work each morning was to secure an overview of the market. Product prices depended on the outlook for global oil demand. Had there been unrest or incidents during the night which affected crude prices? How large was the total supply of oil from the North Sea, the Middle East and – more recently – the USA? If oil stocks, particularly in America, were filling up, it indicated that available supplies were too large and that the price would fall.[REMOVE]Fotnote: Henrik Sommerfelt, head of Norway, CMC Markets, 19 April 2020. Was production at Statoil's refineries running normally? Which products were available for the traders to sell, and in what quantities? When were the products to be delivered? Since all these factors could change rapidly, traders had to be able to interpret the information and take quick decisions, with a fairly large slice of personal responsibility.
Most contracts in Singapore were fixed at around 17.00-18.00. The working day for a trader there was not over until 19.00, which allowed for an overlap with their counterparts at Statoil's Forus office in Stavanger, who would have just completed their lunch break.[REMOVE]Fotnote: Stavanger Aftenblad, 8 January 2012, "The energy market never closes".
Wider activities
Equinor's sales and marketing office in Singapore was located at Marina View in 2021, overlooking the busy pleasure-boat traffic. It was no longer confined to sales, but also had responsibility for refining operations elsewhere in Asia. The office has increased in importance, since other parts of Equinor's business development in the Asian region are run from there.
arrow_back
forrige
neste
arrow_forward