Ten years in Thailand
Troll on land
Veslefrikk – recycled floater
Oil prices fell to their lowest level for more than a decade in the autumn of 1986. Finding a way to develop a relatively small discovery in such circumstances called for new solutions, and the low prices themselves provided an opportunity for Veslefrikk.
Production licence (PL) 052 was awarded in 1979, with the field discovered the following year. It was estimated to contain just under 40 million standard cubic metres (250 million barrels) of oil and four billion cubic metres of gas. Compared with the contemporary Gullfaks, Oseberg and Troll discoveries, Veslefrikk was small fry and – not least because of the price slump – classified as "marginal". That meant it was difficult to develop profitably. As operator, Statoil was forced to turn its thoughts away from a traditional approach.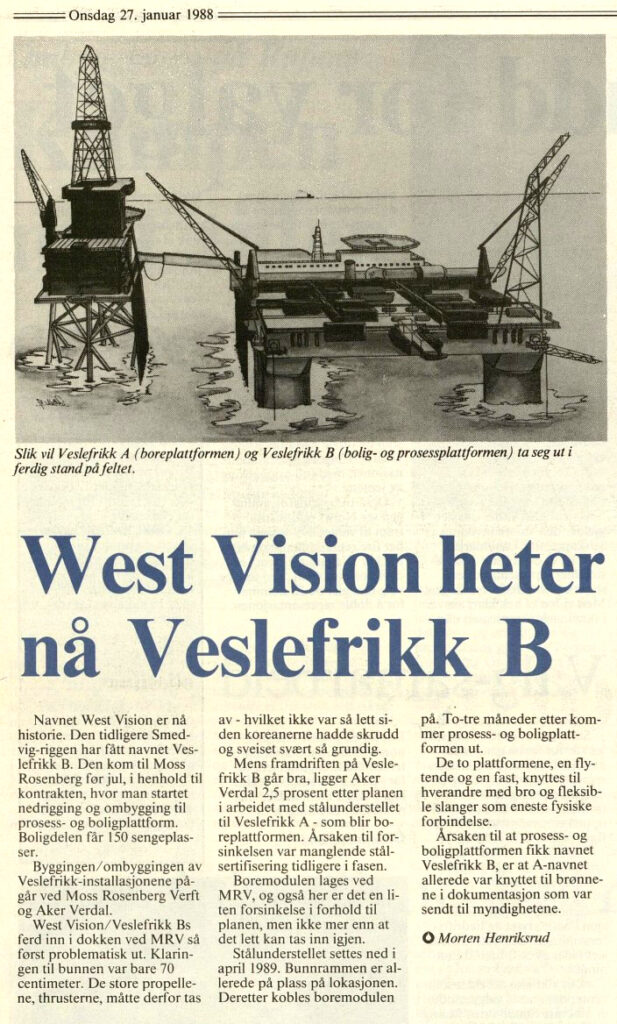 In the mid-1980s, the company entered into a five-year charter with Smedvig for West Vision, a modern semi-submersible rig built in South Korea intended to drill on the Norwegian continental shelf (NCS).[REMOVE]Fotnote: Stavanger Aftenblad, 27 September 1986. When oil prices fall dramatically, companies often cut down on exploration wells since this is a simple way to reduce costs. The slump in 1986 prompted big reductions to drilling programmes, and Statoil risked being left with an idle rig. West Vision managed to drill a single exploration well on Gullfaks and four producers on Veslefrikk itself before being diverted.
Reborn as Veslefrikk B
Conversion was the answer. After purchasing the brand-new rig from Smedvig for NOK 800 million, Statoil dispatched it to Stavanger's Rosenberg Verft yard for a makeover scheduled to cost as much again. That included removing the derrick for later installation on the Veslefrikk A fixed wellhead platform, while adding offices and quarters. The overall cost of developing the field was estimated at NOK 5.6 billion in 1986 value.[REMOVE]Fotnote: Stavanger Aftenblad, 27 September 1986; board meeting, Statoil, 16 October 1987; Status, no 1, vol 9, 1987.
However, the work proved more expensive than planned and the increased price of around NOK 500 million was split between the yard and Statoil. The overrun was said to have arisen because the drawings provided to Rosenberg did not accord with the rig as built, and because Statoil eventually requested a higher standard for the quarters. In addition, new and tougher safety standards may also have played a part.[REMOVE]Fotnote: Rogalands Avis, 26 August 1989.
Statoil's purchase contract with Smedvig also provided that a 60-strong crew for Veslefrikk B should be hired from Smedvig Drilling throughout the field's lifetime. This was vetoed by the Norwegian Directorate of Labour on the grounds that such an arrangement would have big consequences for a number of contractors in the oil sector, a view supported by the Statoil Workers Union.[REMOVE]Fotnote: Rogalands Avis, 1 October 1988.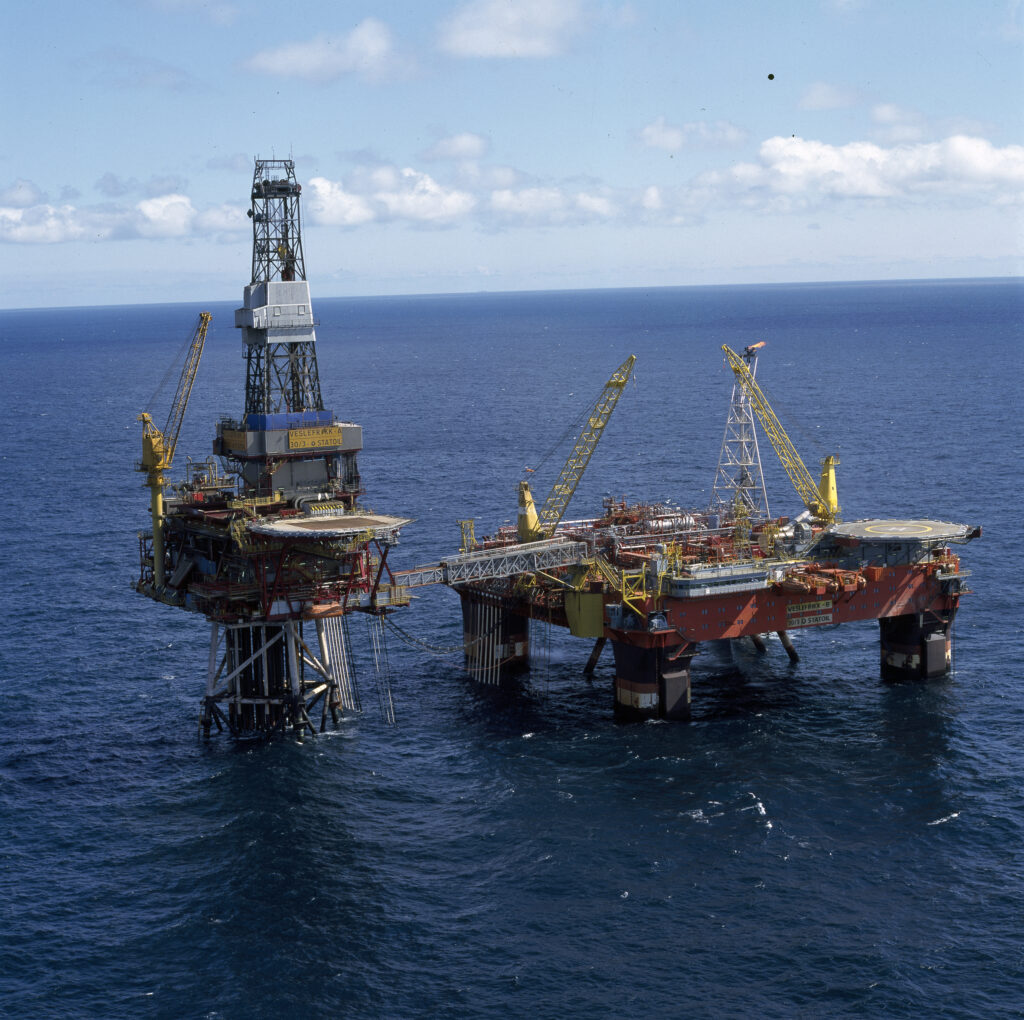 A plan for development and operation (PDO) of Veslefrikk was submitted in the autumn of 1986, and included the small A wellhead platform as well as the B floater. The latter ranked as the first floating production facility on the NCS. These two installations combined provided the same functions as a large integrated platform but at a significantly lower development costs. The PDO envisaged a producing life of 20 years.
Modifying the rig into a floating platform yielded substantial savings. A field regarded as commercially marginal could now make money, even with low oil prices.
"However, the oil price slump has made it necessary to assess each factor affecting the field's economics with extra care," said assistant vice president Ottar Rekdal in Statoil's technology and development division. "A floating production platform is the most profitable alternative for Veslefrikk, in part because we've already chartered West Vision."[REMOVE]Fotnote: Status, no 1, vol 9, 1987.
Good profitability was based not on new technology, but on simplification and new combinations of existing technical solutions.
Another contribution to a rational development involved production from two reservoir zones, at 2 800 and 3 050 metres beneath the sea surface, through one and the same well.
Magic fiddle and well-functioning field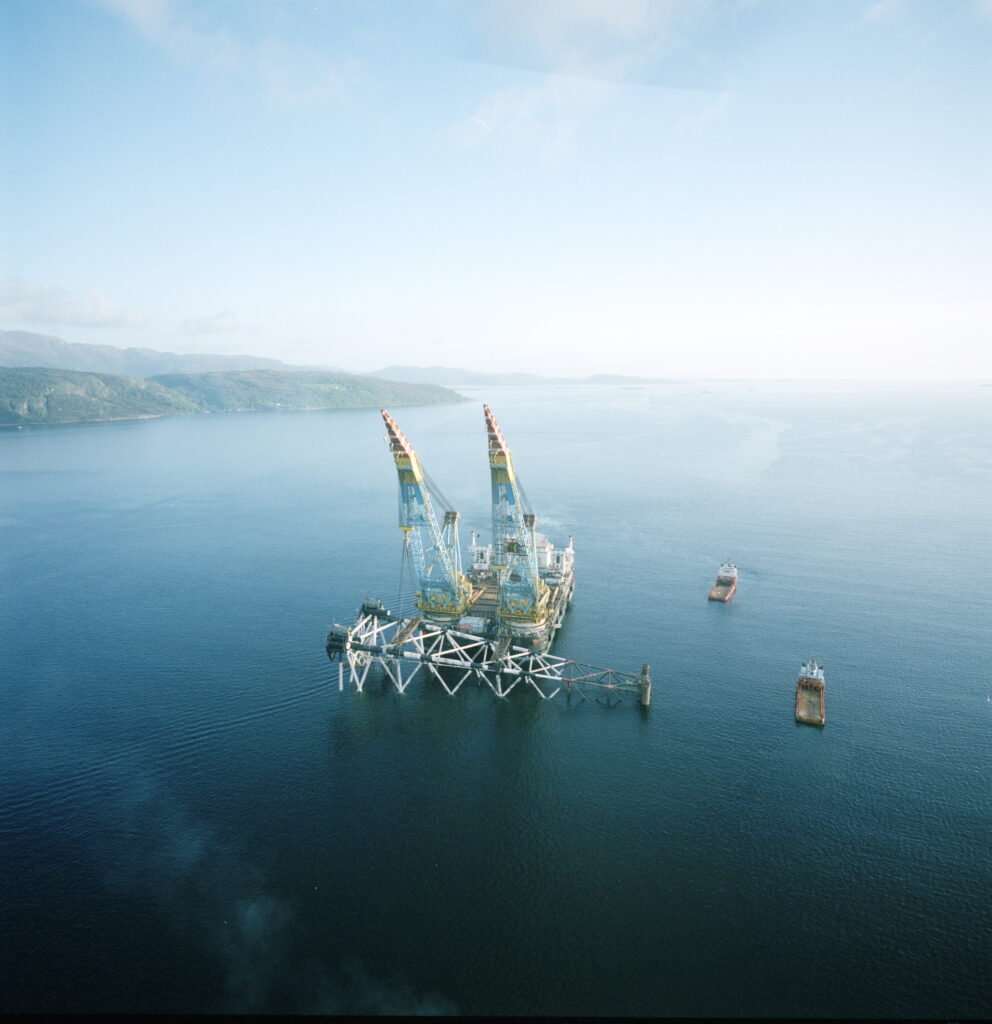 Veslefrikk A was towed out and installed on the field in May 1989, with the B platform fully moored by October. The first two wells came on stream on 26 December and, because of Christmas, the celebration took place in advance on the same day Gullfaks C could celebrate starting production – again ahead of the actual event. Oil from Veslefrikk was exported to Oseberg and the gas to Statpipe.
The Norwegian folk tale about Veslefrikk – Little Freddy – relates how the hero transforms from a poor and ragged dogsbody to a prosperous fiddle player who can make people dance until they drop. The magic in the field named after him was hardly of the same calibre, but it nevertheless yielded almost twice the oil and gas originally expected.
In late 2021, Veslefrikk was in the process of being permanently plugged and plans called for production to cease in 2022. It had then produced 64 million standard cubic metres of oil equivalent (scm oe), compared with the PDO estimate of 36.4 million scm oe.
The intention is to tow the B platform to Coast Center Base at Ågotnes in the summer of 2022 and then on to Denmark for breaking up and having its materials recycled.
arrow_back
Ten years in Thailand
Troll on land
arrow_forward