Climate roadmap
Anders Opedal – between industry tradition and energy transition
Hazardous fires at onshore plants
The quality of maintenance work at Equinor was called into question in 2020 following fires at Melkøya and Tjeldbergodden. Did management assign the same importance to necessary maintenance as it did to cost cuts? Sharp criticism was levelled by the Petroleum Safety Authority Norway (PSA) after investigating these incidents.
No less than 13 accident investigations were initiated by the PSA in 2020 – a record for a single year.[REMOVE]Fotnote: The PSA is responsible for determining the principles governing health, safety and the environment in the petroleum industry, and for ensuring that the companies meet high standards in this area. That will contribute in turn to creating the greatest possible value for society. Its follow-up will be system-oriented and risk-based, and supplement the industry's own efforts. The goal of the PSA's supervision is to ensure compliance with the relevant regulations. They included two serious fires at Equinor's plants on land – Hammerfest LNG at Melkøya outside Hammerfest on 29 September, and the Tjeldbergodden methanol plant in Aure local authority on 2 December. Fortunately, neither of these incidents caused personal injuries, but both had a major accident potential and led to substantial material losses.[REMOVE]Fotnote: https://www.ptil.no/en/technical-competence/explore-technical-subjects/news/2021/annual-report-2020-the-unusual-year/
A question posed was whether these events were after-effects of the 2014-18 oil crisis. Had the emphasis on cost-cutting by the companies resulted in insufficient maintenance and inadequate classification?
Avoidable fire
The fire at Hammerfest LNG, which processes gas from the Snøhvit field, was quickly labelled as one of the most serious incidents in Norwegian oil history. In the worst case, it could have developed into a disaster which put human lives at risk. A full-scale emergency response was mobilised in Hammerfest, and the fire was extinguished after eight hours.[REMOVE]Fotnote: https://www.nrk.no/tromsogfinnmark/brannen-pa-melkoya_-_-en-av-de-mest-alvorlige-hendelsene-i-norsk-petroleumshistorie-1.15180190.
An investigation by the PSA found that the fire had started in a filter housing were insects had accumulated over a number of years, eventually causing the filters to auto-ignite.
These units had not been replaced since 2015. They had previously been changed every other year, but Statoil shifted in 2016 from "calendar-based" to "condition-based" maintenance. No clear inspection routines or criteria for changing the filters had been established.[REMOVE]Fotnote: https://www.ptil.no/en/supervision/audit-reports/2020/equinor–hammerfest-lng–major-accident-and-electrical-installations/ Nor had they been replaced after that was recommended following an incident in 2019.
When the PSA conducted an inspection at Hammerfest LNG in 2019, a year before the fire, it noted that the whole plant lacked a maintenance strategy. A 2015 draft for such a strategy was never finalised because management had given it no priority. Concern was expressed over whether the organisation was adequately manned for safe operation.[REMOVE]Fotnote: https://www.ptil.no/en/supervision/audit-reports/2019/equinor-snohvit-and-hammerfest-lng-operation-and-maintenance/ Hammerfest, Norway's northernmost municipality, was probably not the easiest place to recruit qualified personnel.
The inspection identified a preventive maintenance backlog totalling about 3 000 hours at Hammerfest LNG and for the subsea installations and pipelines on Snøhvit. In addition, maintenance work of unidentified scope was required at both locations.[REMOVE]Fotnote: https://www.ptil.no/en/supervision/audit-reports/2020/equinor–hammerfest-lng–major-accident-and-electrical-installations/
Then came the fire.
Professor Jan Erik Vinnem at the Norwegian University of Science and Technology (NTNU) characterised it as a "planned accident". After reading the PSA's report on the incident in 2021, he did not hesitate to comment: "It would be naive to assume that the Equinor fire at Melkøya had nothing to do with cost cuts."[REMOVE]Fotnote: DN, "Risikoekspert om Equinor-brannen: – En planlagt ulykke", 26 April 2021, https://www.dn.no/olje/equinor/petroleumstilsynet/irene-rummelhoff/risikoekspert-om-equinor-brannen-en-planlagt-ulykke/2-1-1000561.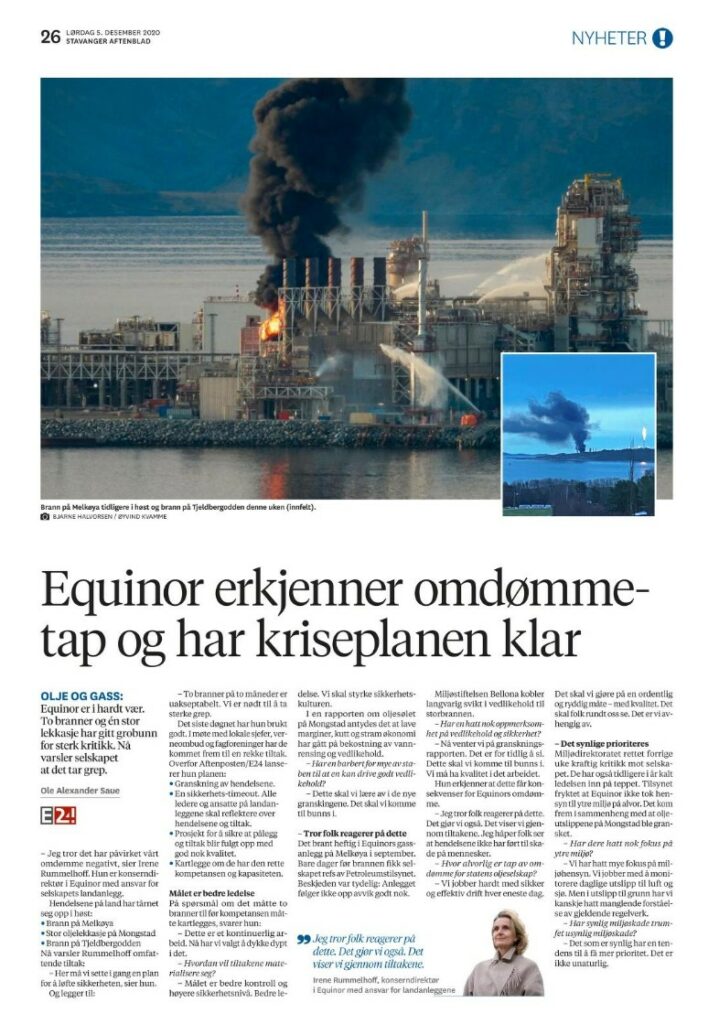 Equinor was ordered by the PSA to "identify, implement and follow up measures to ensure compliance with the management system."
The plant was extensively damaged, with production from Snøhvit and at Melkøya experiencing a lengthy shutdown. Comprehensive improvement work was required – not only because of the fire itself but also to repair damage caused by the seawater used to extinguish the flames. No less than 22 000 components had to be checked for possible salt-water contamination, and 180 kilometres of cabling needed replacing.
It thereby took much longer than first thought to get the plant up and running again. The coronavirus pandemic contributed to the delay.[REMOVE]Fotnote: https://e24.no/olje-og-energi/i/rEOArR/equinor-utsetter-oppstart-for-gassanlegg-paa-melkoeya  According to Teodor Sveen-Nilsen at Sparebank 1 Markets, the Hammerfest LNG fire may have cost Equinor NOK 20 billion in lost revenue.[REMOVE]Fotnote: "The fire at Hammerfest LNG in September 2020, leading to a financial loss for the group related to physical damage, postponement of production, and gas trading, illustrates that insurance may not completely protect the group." Annual report, 2021, Equinor: 99. An exact figure may nevertheless be difficult to obtain, since both demand and prices for gas have risen after Russia's invasion of Ukraine in February 2022.
Production resumed at Hammerfest LNG on 2 June 2022. According to Equinor, the plant can process more than six billion cubic metres of gas per annum from the Barents Sea.[REMOVE]Fotnote: https://www.equinor.com/news/20220601-production-start-up-at-hammerfest-lng
Fire with threat of explosion at Tjeldbergodden
Equinor has a complex at Tjeldbergodden in Aure local authority north of Trondheim which comprises a methanol factory, a gas receiving terminal and an air separation plant.
A fire broke out on 2 December 2020 in the compressor house at the methanol factory. Oil in a steam turbine generator (STG) ignited and black smoke was released to the air. Both air separation and methanol plants were quickly shut down.[REMOVE]Fotnote: Fire at Tjeldbergodden methanol plant extinguished – equinor.com. Thirty people were evacuated and a number of fire appliances, ambulances and police mobilised to the site. The blaze lasted about an hour.
This incident was caused by a fault with the STG in the compressor house, when a shut-off valve failed to function. A further safety device also failed. Instead, the STG continued to be supplied with steam after all connected equipment was stopped, and increased its speed.[REMOVE]Fotnote: Investigation of the fires at Tjeldbergodden and Hammerfest now concluded – equinor.com.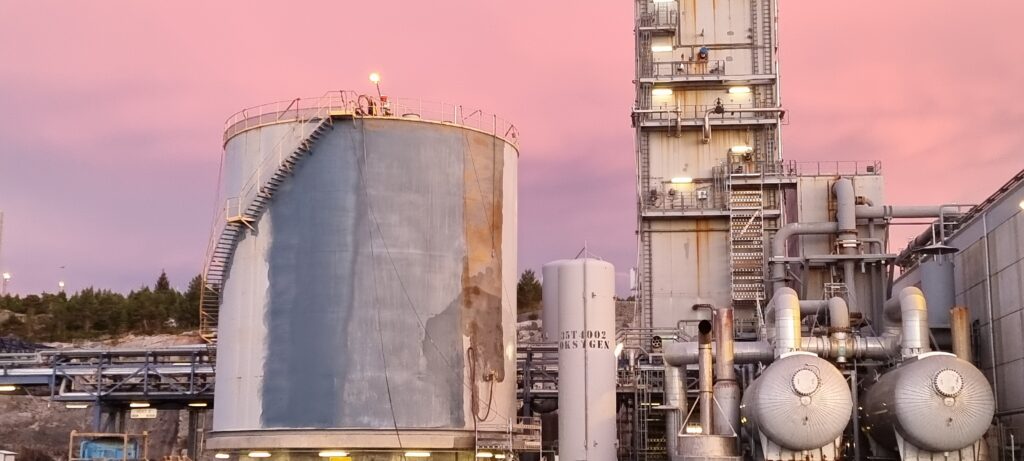 A coupling between the steam turbine and a gear broke down, which resulted in heavy metal parts being flung out. One of these made a hole in a pipe carrying lube oil to the turbine generator. The lube oil ignited and caused the fire. After 20 minutes, the lube oil pump was halted and the fire died down.[REMOVE]Fotnote: https://www.nrk.no/mr/kunne-gatt-liv-pa-tjeldbergodden-1.15493408.
According to the PSA, things could have gone worse. The incident had a major accident potential and might have caused serious personal injuries or death as well as substantial financial loss.[REMOVE]Fotnote: https://www.ptil.no/en/supervision/investigation-reports/2021/equinor–tjeldbergodden–investigation-of-turbine-breakdown-and-fire/ Had flying metal components hit relevant equipment, a gas leak could have occurred and caused an explosion in the plant. People might then have been killed.
Equinor's own investigation concluded that the STG should not have been installed in the same building as the synthesis gas plant. The company's expertise with steam turbines needed to be increased and sustained. Among other requirements, adequate preventive maintenance of critical valves needed to be established.[REMOVE]Fotnote: Statoil COA ACC, investigation report, Intern ulykkesgransking Brann i kompressorhus på Tjeldbergodden, 26 February 2021.
This report was presented in February 2021, at the same time as the plant resumed operation. The findings of the police and PSA investigations appeared later.[REMOVE]Fotnote: https://www.nrk.no/mr/kunne-gatt-liv-pa-tjeldbergodden-1.15493408.
Serious breaches of the regulations were identified by the PSA, which ordered Equinor to: "Identify, initiate and follow up measures to ensure that equipment with a safety function is identified and classified to ensure correct follow-up of its function and proper handling of impairments in order to secure safe operation". This was similar to the order the company had received following the Melkøya fire.
Admonishment and results
The two fires were characterised as serious in the PSA's annual report for 2020.
While incidents with major accident potential at onshore plants had been at a stable level since 2009, their number showed a marked increase in 2020. The PSA therefore noted that the companies had to give greater priority to reducing the number of incidents and near-misses at their facilities.[REMOVE]Fotnote: https://www.ptil.no/contentassets/e6c291f68aa0448aa1632c227f6e0834/arsrapport-2020.pdf.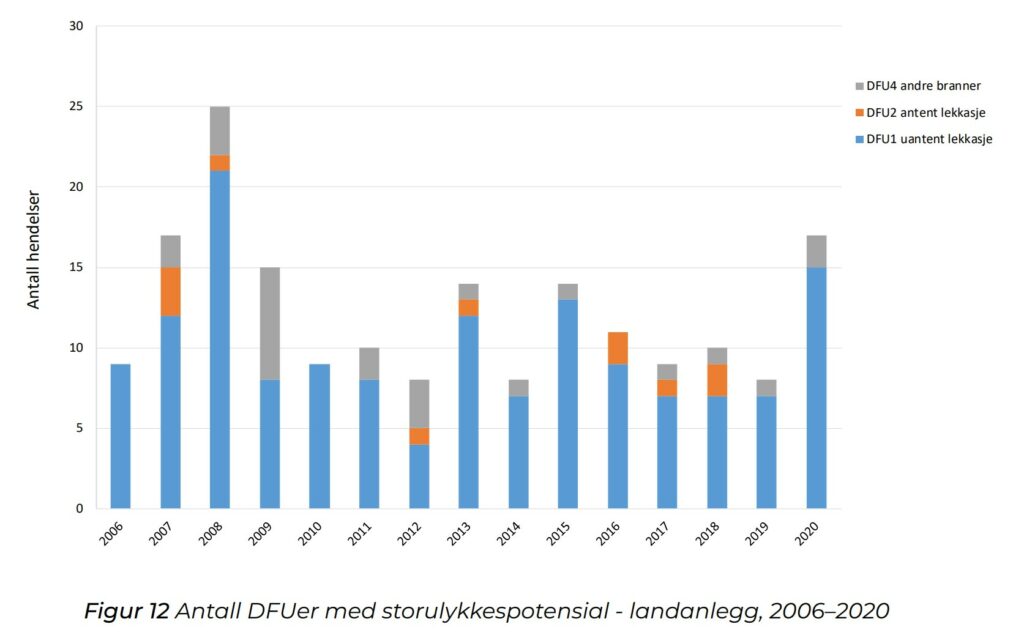 That applied not least to Equinor. A glance at its annual reports provides a rough guide to how the company responded to the PSA's criticism. In 2020, this seemed diffuse: "Lessons learned from these investigations [of the fires at Hammerfest LNG and Tjeldbergodden] may affect where we step up our efforts."[REMOVE]Fotnote: Annual report, 2020, Equinor: 106.
Its 2021 report was more specific: "Following the fires at Hammerfest LNG and Tjeldbergodden, Equinor is implementing measures to prevent future incidents".[REMOVE]Fotnote: Annual report, 2021, Equinor: 49. One measure was "a new framework for major accident prevention. This is built on three pillars: 'Leadership culture and organisational frame conditions', 'Safe practices and design and 'Safety barriers'."[REMOVE]Fotnote: Annual report, 2021, Equinor: 111. The goal was to prevent accidents by strengthening what executives knew about how humans, technology, organisations and processes interact as a system, and how these can affect human error.
The two fires have demonstrated that maintenance management at big plants with a lot of equipment and hundreds and thousands of components is a comprehensive and painstaking business. Such work is characterised by routine and fails to confer high status in the organisation. At times when management demands cost cuts, maintenance may have its priority imperceptibly downgraded even though the HSE regulations demand compliance. That allowed risk conditions to build up over time at both Melkøya and Tjeldbergodden, which were not adequately picked up by the maintenance management system – with expensive consequences.
arrow_back
Climate roadmap
Anders Opedal – between industry tradition and energy transition
arrow_forward